Podcast: Play in new window | Download
Are you considering an Intuitive Eating journey? Today I discuss five things you can do today to jump start that journey.  No need to jump in all the way, just get your toes wet.  Intuitive Eating is a journey, and a lifelong one at that, so it's ok, and suggested, to start slow and at a pace that you feel most comfortable with.  I offer general support coaching sessions on an hourly basis, to see if you might be interested in Intuitive Eating, and I also offer my Personal Intuitive Eating and Wellness program if you're ready to jump in all the way (with a free introductory call as an initial step to see if it's right for you).  Take a listen and see what you think!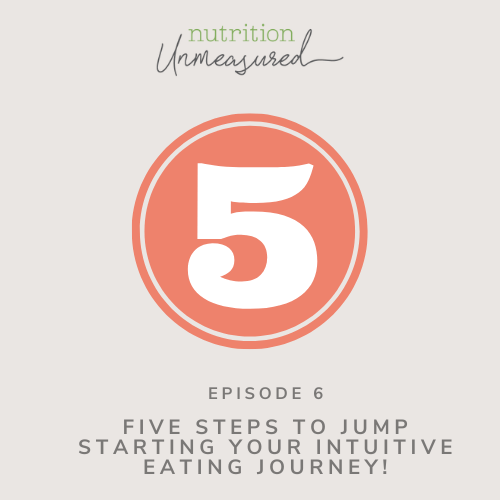 Sponsor
My FREE handout on jump starting your Intuitive Eating journey!
Pre-sale of my Ten Module Self Study Intuitive Eating Course (half off!) 
Books
You Just Need to Lose Weight, and 19 Other Myths About Fat People, by Aubrey Gordon
Self-Compassion; The Proven Power of Being Kind To Yourself, By Kristin Neff PhD
The Intuitive Eating Workbook, by Elyse Resch and Evelyn Tribole
Body Kindness, by Rebecca Scritchfield RDN
Favorite new recipe: Fruit Pizza (my dough needed one more egg, see if you agree!)