It's finally here, my second mini course of my mini course "series"!  This one is an introduction to Intuitive Eating.  This course would be great for anyone who is intrigued by Intuitive Eating but wants to learn more, or anyone who has no knowledge of Intuitive Eating at all, but wants to find out if it's a good fit.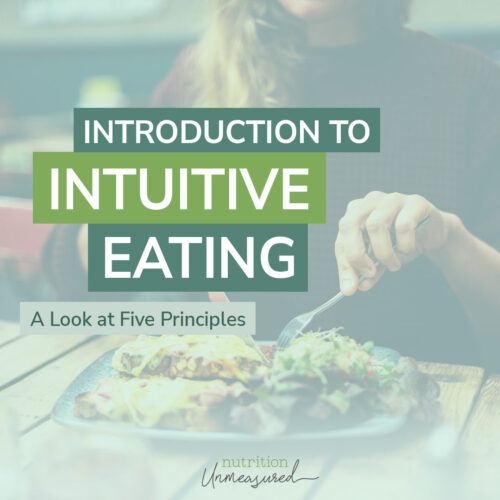 The 45-minute long course will be live and offered via Zoom on March 1st at 7pm ET. During this course you will:
Learn about five of the ten principles of Intuitive Eating

Ditch Diet Culture
Honor Your Hunger
Make Peace with Food
Handle Emotions with Kindness
Gentle Nutrition

Identify further resources for learning
Ask questions about Intuitive Eating and how it may or may not work for you
Earn 10% off my self-study course (coming this summer) and one General Nutrition Session
If you can't make it to the live class, I will record it and send it out to you later. Let me know what questions you have! I can be reached at TrustYourBodyRD@gmail.com or on Instagram @NutritionUnmeasured. To sign-up for this class, or learn more about my other mini courses, visit my website.